BOOK & MATERIAL DONATION GUIDELINES
The Friends of the Library gladly accept donations of new and gently-used books and other materials for their annual book fair. All proceeds are given back to the Library to fund special programs and amenities within library branches. Here are a few tips to help simplify your donation experience:

[1]
LOCATIONS & CAPACITY
Most of the larger library branches accept up to four medium-sized boxes (approximately 13"x12"x15") of donations during regular operating hours. Donation receipts are available from the check out desk. We do not want to turn away your gift due to space limitations, so we encourage you to bring donations to the following branches. Click on branch name for directions:
The Friends' Warehouse is located at 224 Turner Blvd in St. Peters, MO 63376 [9].
The Friends' Warehouse is closed all holidays the Library is closed [10].
For a printable pdf of the donation guidelines click here [11].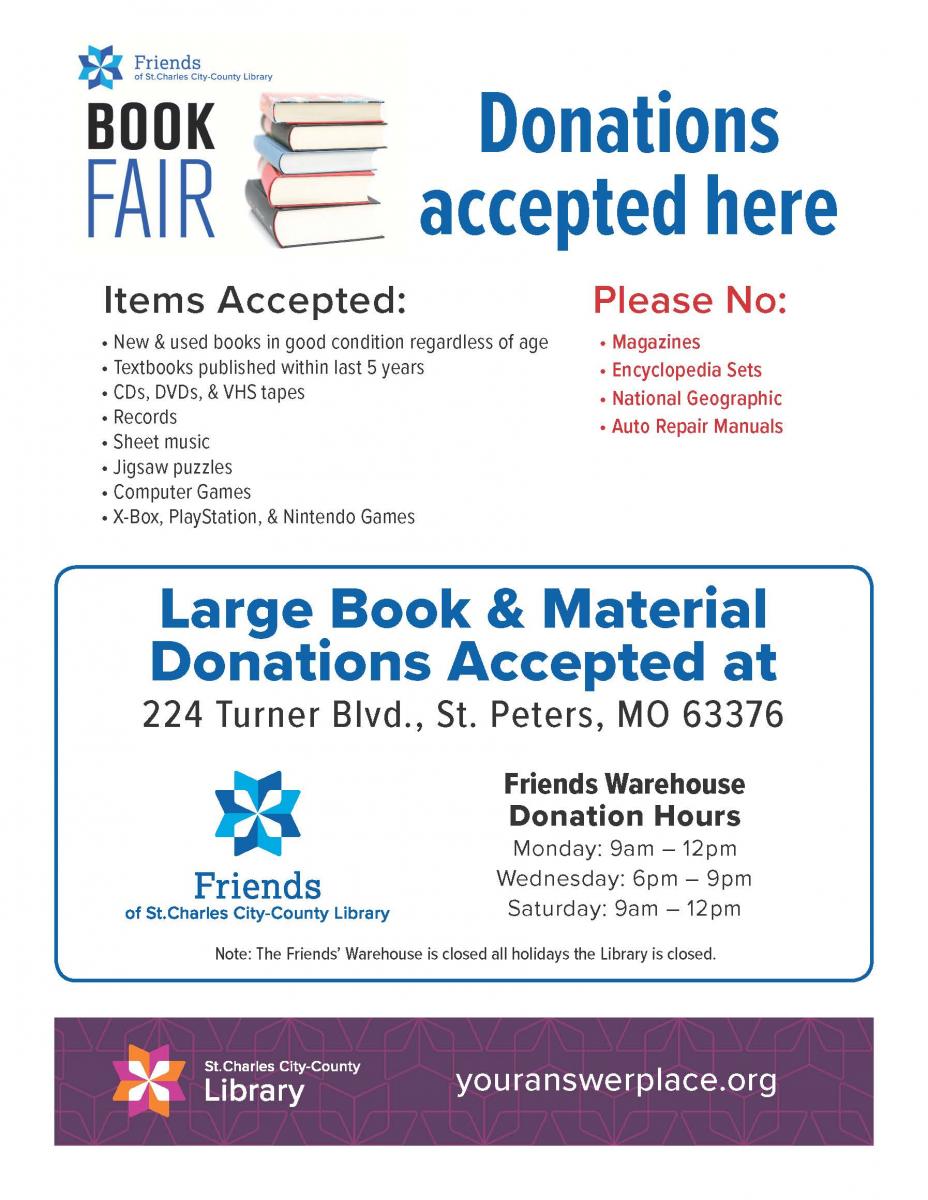 Link to regional organizations which pick up donations can be found HERE [12].
Links:
[1] https://stchlibraryfoundation.org/sites/default/files/friendsdonationform2019v.2.pdf
[2] http://tracking.etapestry.com/t/28267165/394692894/59857940/0/40965/
[3] http://tracking.etapestry.com/t/28267165/394692894/59857942/0/40965/
[4] http://tracking.etapestry.com/t/28267165/394692894/59857944/0/40965/
[5] http://tracking.etapestry.com/t/28267165/394692894/59857946/0/40965/
[6] http://tracking.etapestry.com/t/28267165/394692894/59857943/0/40965/
[7] http://tracking.etapestry.com/t/28267165/394692894/59857941/0/40965/
[8] http://tracking.etapestry.com/t/28267165/394692894/59857945/0/40965/
[9] https://www.google.com/maps/place/224+Turner+Blvd,+St+Peters,+MO+63376/@38.8056004,-90.6491987,17z/data=!3m1!4b1!4m5!3m4!1s0x87ded771b2d6d6b3:0xea935301ea737654!8m2!3d38.8055962!4d-90.64701
[10] http://host5.evanced.info/stcharles/evanced/eventcalendar.asp?ag=&et=Library+Closings&df=calendar&cn=0&private=0&ln=ALL
[11] https://stchlibraryfoundation.org/sites/default/files/bookfairdonations_4.pdf
[12] https://www.stlouis-mo.gov/government/departments/street/refuse/recycle/charities.cfm
[13] mailto:friends@stchlibrary.org